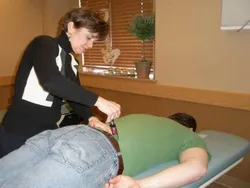 "A friend introduced me to the Activator Method of adjusting in chiropractic college. His father was a chiropractor who utilized various manual-adjusting techniques until his wife suffered a severe whiplash in an automobile accident. She was in extreme pain, so much so, that she could not tolerate her husband's manual adjustments - her pain continued for weeks - she was in misery. Then a colleague learned of the situation and asked if he might treat her because he utilized a different adjusting technique, call the activator. Because the activator rendered a comfortable, gentle adjustment he could address the injury to her neck and she responded beautifully. As you can imagine, this prompted my friends' father to study this method and he was so impressed that he totally changed his practice to an activator practice. This influenced me to seriously consider the Activator Method, and once I studied the technique and compared it to other techniques I knew that I wanted to specialize in activator. I became proficiency rated in 1986 and advanced proficiency rated in 1987." - Dr. Kellie Puroll.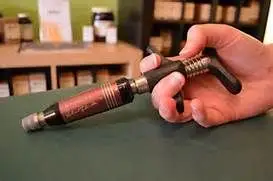 The activator is a hand-held adjusting instrument that delivers a high velocity, low force thrust. The speed of the activator is 1,000 times faster than an adjustment given by hand. Since the adjustment is so much faster it does not require as much force to move the bone, so the patient does not tense up or experience any discomfort involved with the treatment. The patient remains in a neutral relaxed position so there is no need what so ever to twist, turn, or contort a patient, so it's more comfortable. There are four different force settings ranging from 9 to 28 pounds allowing us to select the proper amount of force based on the area we are treating and the person we are treating - are they a small child or infant, a geriatric person with osteoporosis, or a large muscle bound man. It is appropriate for everyone, no matter how large or small they are.
Another valuable consideration is that the activator never gets tired. The last adjustment of a long busy day is the same as the first adjustment given in the morning. It is always consistent, always controlled, very gentle and very effective. It is the smart choice.
Find out more about the activator method of spinal adjusting at www.activator.com